Seriously, I thought this was significant enough to warrant a blog post.

Sure, maybe it would actually have been cool if I got a pair maybe a decade ago, but I guess it took me this long to find a pair that I liked that happened to be on sale!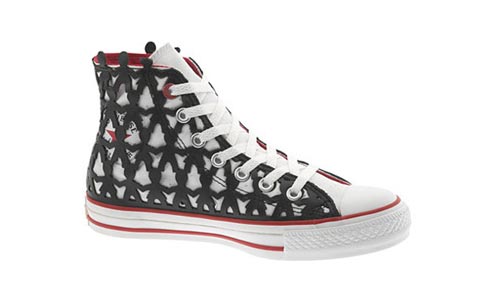 1HUND(RED) Artist #58 Steve Monti
100 People, Hi, Canvas/Leather
It's actually one of the (PRODUCT) RED ones, so supposedly some small part of the proceeds (hugely disproportionate to the marketing spend of course) is donated to the fight against AIDS. I guess Bono would be proud?
I actually have owned a single Converse shoe prior to this. Well, sort of… it was a kind of miniature one that was actually a pencil case. I remember in maths one year, I got yelled at by the teacher to get that shoe off my desk, until she came over and discovered that it was actually a pencil case. How hilarity!
2 comments 12 years, 2 months ago