Topic: The Intarweb 12 years, 4 months ago
I tried to register my Woolworths Everyday Rewards card today and encountered this error…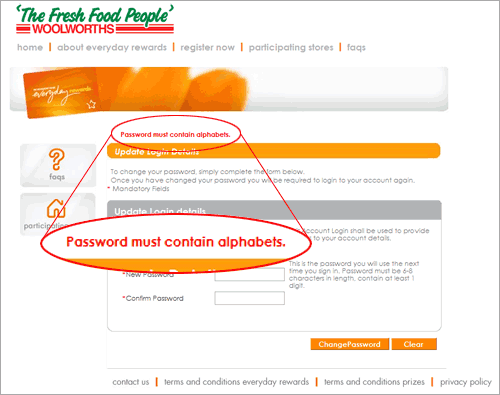 What?! But I only know of the English A-Z alphabet… how am I supposed to include multiple alphabets in my password?
Oh wait… did you mean letters of the alphabet?

Hilarity: 1
Thoughtful Design: 0
The observant among you will also note that the explanatory text originally on the form informs you that passwords must contain at least one digit, but makes no reference to any requirement for letters — poorly thought out indeed. Not to mention, since the password can only be 6-8 characters long, I don't know how I'd fit 26+ characters even if I wanted to!
(Besides, all this thing protects is the ability to check how many fuel discount vouchers I have… why the need for such a strong password anyway?)