Topic: Food and Drink 14 years ago
We visited Garfish for dinner tonight (at Crows Nest this time) as it was Mom's birthday. The food was even better than the last time Lucy and I visited Garfish — I was delighted to see my ocean trout was succulent even at the thickest part — and the service was friendly.

Entrées: salt and pepper squid with chilli, garlic, coriander and lime (left) / scallops in prawn butter (right) (enlarge)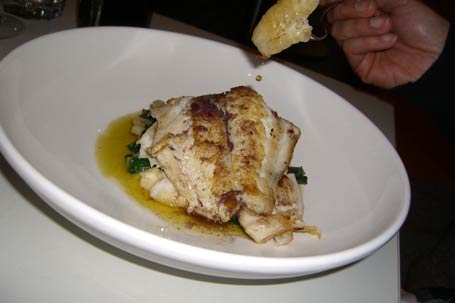 Terahiki with silverbeet (enlarge)

Whole crisp-fried barramundi with three-flavoured sauce and bok choy (enlarge)

Ocean trout with coriander yoghurt on cous cous (enlarge)

Garfish with tomato relish on mash (enlarge)
The damage? A reasonable $160 for four (no dessert, excluding drinks or tips). I hear they're opening another restaurant in Manly in October… can't wait!