Topic: Software 14 years, 3 months ago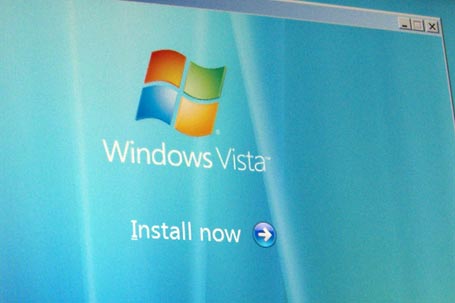 This week I finally had the time to install the publically-released Windows Vista Beta 2 (build 5384). While there were some expected problems to overcome, it's mostly been good going.
Is it suitable for use as your primary OS? Well that's what I'll be trying to do. (Admittedly, I'm only dual-booting my desktop, so if anything goes wrong Windows XP is only a reboot away. I also still have Windows XP running on my Tablet PC.)
I had some inital problems and I'm now on my third clean install of Windows Vista. Some hints that might save you some grief:
Hint 1: Always install drivers for all your storage controllers during Setup. Windows Vista would not boot after files were copied during Setup (it complained about something to do with winload.exe). I suspect it's because I didn't load the drivers for both my SATA RAID controllers at the start. (I have a controller on both the ICH5R southbridge and a separate Silicon Image controller on the motherboard.) I thought I only needed to load the drivers for the controller responsible for the drive where Windows Vista was being installed.

Hint 2: If you have a Radeon X1600, stick to the WDDM drivers Windows automatically installs! I installed the beta ATI Catalyst drivers for my X1600, failing to note the brief mention under the 'known issues' in the release notes about problems with with X1600s. Big mistake! After finding Catalyst Control Centre would not start, I attempted to uninstall and reinstall the drivers — this in itself was very difficult to do as it kept believing it was still installed and did not need to be updated. I finally managed to reinstall them (after using the ATI driver uninstallation utility), only to find Windows became totally borked and failed to recognise any display drivers.

Hint 3: Use VistaBootPRO to configure the Windows Vista boot manager. The Windows Vista boot manager no longer stores its settings in boot.ini and replaces the Windows XP one on dual-booting systems, so you can no longer configure your startup options from System properties in Windows XP. VistaBootPRO is great as it can run from either Windows XP or Windows Vista. It's free too!
I've been using Windows Vista for a few days now and it's been pretty stable — more stable than the Office 2007 beta anyhow. There's only been one major issue: Windows occasionally fails to either startup or resume from sleep. While it seems like everything is fine, when it comes time to show the desktop my LCD goes to sleep as if there's no input.