Topic: Gaming 14 years, 2 months ago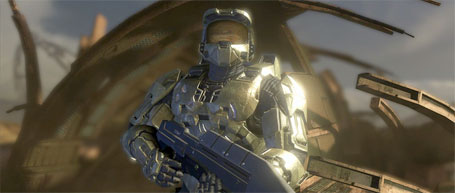 Bungie Shocks World with Surprise Game Announcement:
Nobody saw it coming. Halo 3! Who knew? For the last year or two, people have speculated about what our next project was and surprisingly, in all that time, not a single person guessed that it would be Halo 3. Not one.

We declare it the best kept secret ever.
Oh very funny, Bungie!
Luckily, I stayed up until 05:30 AEST on Wednesday morning to grab it off Xbox Live Marketplace before it got swamped and blew up. If you haven't seen it already, it's available for download in 720p from Bungie.net (see the press release) or from XBLM now.
The Halo 3 teaser looks very good though, for a real-time in-game render! The bombastic music, once again by Marty O'Donnell, is great too. Now that I've just gotten all hyped up about the Halo franchise again, we need to till 2007. Sigh.
The rest of Microsoft's pre-E3 press conference was both very slick and exciting too, which is more than can be said for Sony's offering, or even Nintendo's! I'm definitely looking forward to the Xbox Vision camera, wireless racing wheel and wireless headset peripherals, even if I just bought a wired headset the other day!
Live Anywhere will be great, allowing our Xbox Live gamertag, gamerscore and friends list to be seamlessly integrated into Windows gaming, mobile phone gaming (albeit on Windows-based devices) and Messenger. Hopefully that means I'll be able to connect eventually with Trillian as well. I'd like to see how playing games cross-platform between friends on Xbox and Windows will work for FPSes though, with the vastly different accuracy offered by controller vs. mouse aiming.