Topic: Roads and Traffic 14 years, 7 months ago
Sorry for the extended hiatus! I've been much busier than I expected since my return from Queensland and haven't had time to do any blogging. Here's just a very quick update — I know I've missed out on a lot of recent events, transport or otherwise, and I hope to make up for it in January.
Upon the opening of the Westlink M7 Motorway on 16 Dec 2005, we expected Metroad 7 to be re-signed as the first alphanumeric route, A7/M7 and re-routed along the Westlink M7. However, just about no signage updates were done off the M7 itself and it looked like Metroad 7 signage was here to stay along the Cumberland Highway — until now.
Yesterday, I noticed signage along the M2 Motorway had been updated with coverplates! Changes I noticed:
All references to "[MR7] Pennant Hills Rd" along the M2 have been changed to "[MR6] [MR7] Pennant Hills Rd" with coverplates on all the westbound RD, AD and ID signs
The M7 route shield has been added alongside the Metroad 2 shield on AD signs west of the Beecroft Rd interchange
All references to "Liverpool" and "Canberra" at the Pennant Hills Rd interchange heading westbound have had blank coverplates installed to cover them
Signs on Pennant Hills Rd at the M2 interchange have been replaced, with focal points of "Blacktown" and "Canberra" on the westbound ID signs with the shields "[MR2] M7″ (they used to say "Blacktown" and "Windsor")
Signs pointing southbound down Pennant Hills Rd have had "[MR6]" coverplated over "[MR7]" and focal points of "Liverpool" deleted
While I only travelled the M2 between Pennant Hills Rd and Epping Rd today, I'm guessing similar changes have been made all along the M2. Here are some quick and dirty flash photos from the intersection taken on my way home: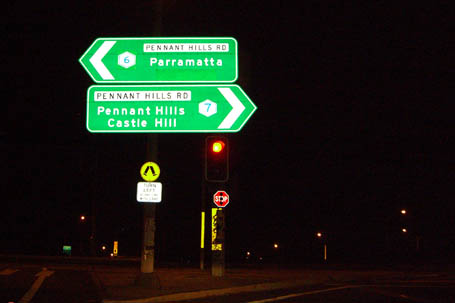 IDs at the top of the westbound off-ramp from the M2 — "Liverpool" and the southbound Metroad 7 shield are under coverplates

New ID sign facing southbound Pennant Hills Rd traffic turning right onto the M2 Motorway
This must all have occurred within the past day as it had not been there when I passed by on Wednesday (21 Dec 2005). These changes are significant in that they mark two things:
Metroad 6 has been extended north from the Pennant Hills Rd/Marsden Rd intersection to the Pennant Hills Rd/M2 interchange
Presumably, Metroad 7 no longer exists south of the Pennant Hills Rd/M2 interchange (or at least, signage marking that route has started to disappear) and the whole route now exists as just the M7 route number for most of its length
I must say, the coverplating job seems to have been done very well. Sure, the background colours are slightly off, but all the shields seem to be just the right size and it's been done comprehensively — I didn't see a single sign they missed out on.
Haha, how exciting! (All this fuss over some signs… I guess I'm really a roadgeek, huh?

)
[Update 2005-12-24: It seems at the Pennant Hills Rd/M2 interchange it's in fact only those two ID and their backs that have been updated! Just my luck to spot only those...
On a drive down last night I noticed that all the ADs and stack signs further away from the intersection do not have M7 or Metroad 6 listed at all and have not had the westbound focal points updated. Furthermore, between there and the Pennant Hills Rd/Marsden Rd intersection nothing has been coverplated at all.
How disappointing!

]
M2 E-toll Lanes
In other news, I think Transurban have installed and have been testing the actual tolling equipment to be mounted on the new overhead E-toll gantries at the M2 Motorway toll plaza. On Monday (19 Dec 2005) week I noticed signs put up telling motorists that their tags may beep when passing under the gantries, although those signs were nowhere to be seen today.
[For other entries about the new E-toll lanes, try browsing all posts tagged with both M2 Motorway and electronic tolling.]