Topic: Living it Up 14 years, 8 months ago
Jan had her 21st on Sunday and the dress-up theme was "the best or worst things to have come out of the '80s". Sadly not everybody made it and I was woefully late (took me hours to find something to wear!), but it was still hilarious while it lasted…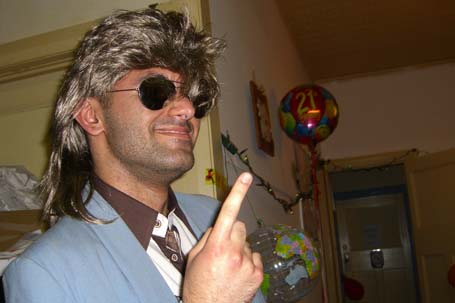 Look, Houmer's mullet looks a bit like Julian's normal hair (enlarge)
Photo removed at the request of a person in the photo, sorry!
Debs has a go too
At least Morgan looked good while looking bad… the same can't be said for me!
(
enlarge
)

Everyone wanted to try my 'Skippy Peanut Butter' visor, including Marcus (enlarge)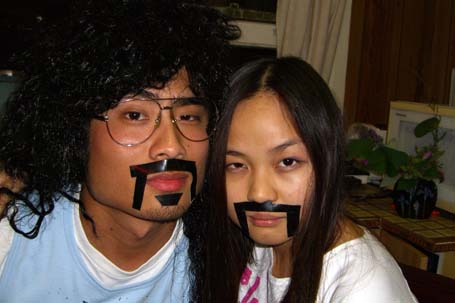 Johnny and Stef with duct tape moustaches (enlarge)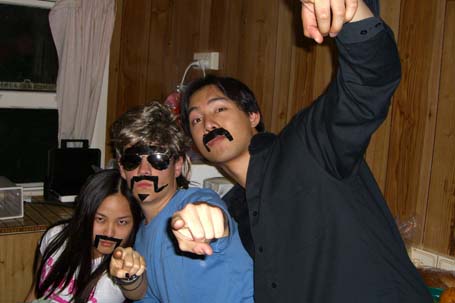 Bero and Will join in with the moustaches too (enlarge)
Bero just about lives in the '80s! (open/download)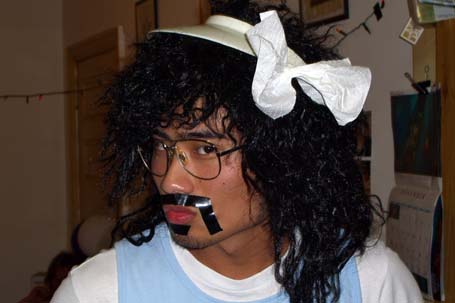 Is Johnny queer or just a girl? (enlarge)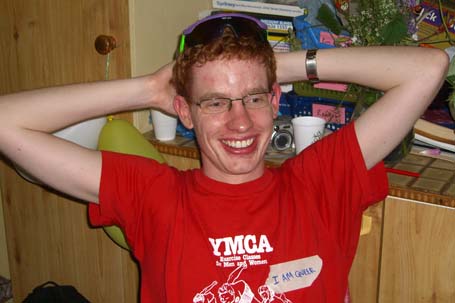 As for Tim Rudder, his shirt says it all (enlarge)

Stef and Gemma ended up bored enough to make a sculpture out of Jan's fruit tray (enlarge)
Johnny has some more photos on his blog too, but unfortunately his blog's design means I can't link to the posts directly, so look for the posts around 26 Nov 2005.
After all this, Morgan suggested out of nowhere that we go karaoke immediately… and so we did! I'll post some photos/videos from that later this week.