Topic: Roads and Traffic 14 years, 6 months ago
I was bored yesterday, so I went on a trip up and down Old Windsor Rd and Windsor Rd from Bella Vista up to Rouse Hill. Interesting sights included sections of the roads duplicated in recent years, the North-West T-way under construction and the Westlink M7 interchange nearing completion.
It was obviously a dumb idea to be out given how hot it was, but especially so since I was driving our old Volvo 240GL, which no longer has working air-conditioning. Oh well, at least I took some photos.
Old Windsor Rd (Metroad 2)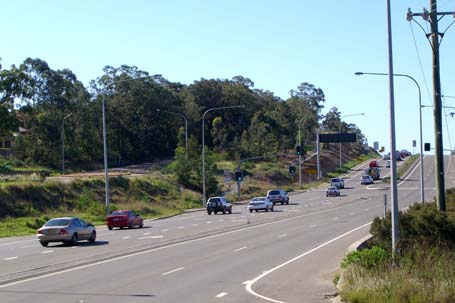 1. Looking north along Old Windsor Rd at Bella Vista — notice the road's old alignment among the trees on the left (enlarge)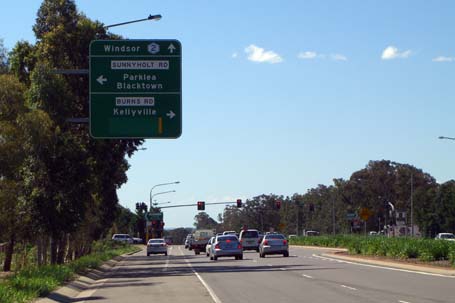 2. Northbound AD on Old Windsor Rd at the intersection with Sunnyholt Rd and Burns Rd — what's under the covered patch for Burns Rd? (enlarge)
[Update: Sam Laybutt explains what's under the patch -- "It says 'Heavy Vehicle Detour' because until Old Windsor Rd was duplicated between Sunnyholt Rd and Windsor Rd there was a 5t load limit on the bridge over the creek just north of what is now Samantha Riley Dr. Overweight vehicles were detoured via Burns Rd and Windsor Rd."]
Old Windsor Rd has been duplicated in recent years as part of the NSW Government's 'All the Way to Windsor' program for upgrading Old Windsor Rd and Windsor Rd to provide at least four lanes from Parramatta through to McGraths Hill, near Windsor.
It is ironic that between Parramatta and the intersection with Windsor Rd near Kellyville Ridge, Old Windsor Rd now carries the bulk of traffic north from the City and Parramatta — not the newer Windsor Rd. Old Windsor Rd has carried the Metroad 2 designation since the M2 Motorway opened in 1997 and is actually a more direct route than Windsor Rd, which weaves its way through Baulkham Hills and Castle Hill while covering the same distance heading north from Parramatta.
Windsor Rd (State Route 40)
Windsor Rd is now being upgraded too. I got some photos today of the works leading up to the new intersection of Windsor Rd and Old Windsor Rd, where Windsor Rd is no longer the through route.

3. View north-west from Macquarie Ave towards the intersection of Windsor Rd and Old Windsor Rd — work is underway to duplicate Whitehart Bridge over Caddies Ck near the intersection (enlarge)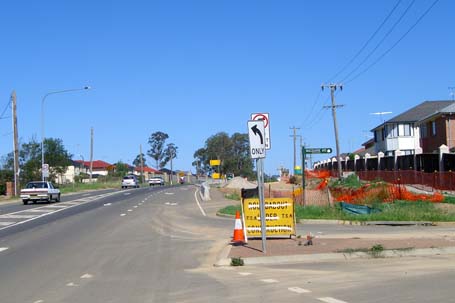 4. View south-east from Macquarie Ave showing construction work underway to upgrade Windsor Rd towards Castle Hill (enlarge)
Windsor Rd at Rouse Hill (Metroad 2, State Route 40)
Windsor Rd continues north from the intersection with Old Windsor Rd at Kellyville Ridge. It has been upgraded to four lane, dual-carriageway through to beyond Rouse Hill. Here one of the more unusual intersections along that stretch.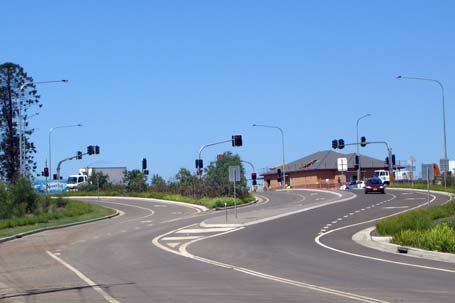 5. Looking east along Rouse Rd towards the intersection with Windsor Rd — note the huge left turn deviation, which ends at a traffic light (not a 'Turn left at any time with care' setup)… kind of like channelisation from the 1960s? (enlarge)
North-West Bus Transitway (T-way)
The North-West Transitway is a rapid bus-only road network being built connecting Parramatta and Blacktown to Rouse Hill. It will run along the eastern side of Windsor Rd between Rouse Hill and Kellyville, after which it will continue to Parramatta along Old Windsor Rd and to Blacktown via Sunnyholt Rd.
Construction is underway along much of the corridor, and land can be seen reserved for the T-way on sections where construction is yet to commence. Bus services are expected to start running in Dec 2007.

6. The North-West T-way will run along the eastern side of Windsor Rd, seen here just south of Commercial Rd, Rouse Hill (view facing south) (enlarge)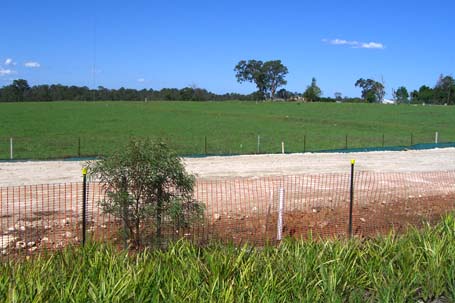 7. Empty land leading away from the T-way corridor (enlarge)
A shared pedestrian and cycle path will run alongside the North-West T-way and eventually maybe even an above-ground section of the seemingly forever-delayed North-West Rail Link (NWRL). Is all that vacant land reserved is for this? Or is it just luck that it happens to be empty at present? (It's been widely reported that the NSW Government has failed to acquire land for the NWRL and parts of the proposed corridor have already been built on.)
Westlink M7 interchange with Old Windsor Rd
Lastly, in the sweltering heat I trekked through the grass near the Westlink M7 interchange with Old Windsor Rd to take a few photos. It was obviously stupid to do it in this weather, but I knew I probably wouldn't be here again for a while.
The Westlink M7 will link to the M2 Motorway to the east of Old Windsor Rd, but the M2 already terminates at Old Windsor Road just south of this interchange. Will motorists pay $0.51 (due to increase every quarter) to the travel 1.71 km along the M7 to its first exit? How much time will really be saved by bypassing the single set of traffic lights at Seven Hills Rd?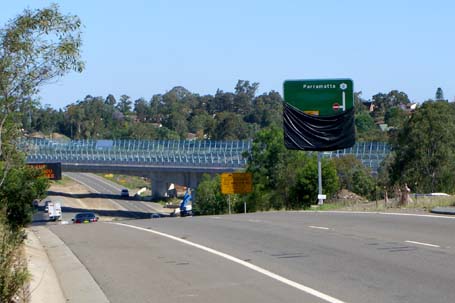 8. Southbound AD on Old Windsor Rd near the Westlink M7, partially covered up — although the covering's falling off and the E-toll symbols can now be seen (enlarge)

9. Closeup of the AD — under the coverplate for Metroad 2 is actually route number A40 (as photographed by Sam Laybutt before it was coverplated)… note that State Route 40 currently runs via Windsor Rd, not Old Windsor Rd (enlarge)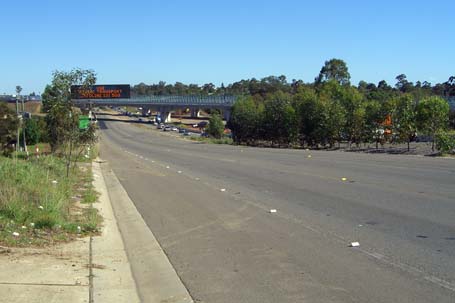 10. View south towards the M7 — and endless temporary lane markings (enlarge)

11. Notice what's displayed on the VMS: "Use Public Transport" — pretty ironic, huh? (it's actually talking about the upcoming FIFA World Cup play-offs) (enlarge)

12. The Commonwealth Government wouldn't fully fund this National Highway corridor (this was pre-Auslink), but they still erected signs gloating about partially funding it (enlarge this photo; closeup of just the sign)

13. Work underway on the eastbound viaduct — notice the two panels missing from the noise barriers… I hope they didn't fall down over Old Windsor Rd! (enlarge)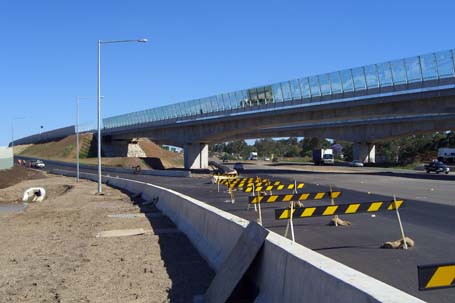 14. Onramp to the M7 eastbound from Old Windsor Rd, looking wide enough to carry two lanes — no markings or signs are here yet though (enlarge)

15. Do these ducks know they're swimming in the shadow of Australia's largest urban infrastructure project? (enlarge)

16. This tiny banner's impossible to see from Old Windsor Rd — so I can only assume it's really meant for the ducks! (enlarge)
Bonus photo!

17. Look! A burnt out car among the grass by the side of Old Windsor Rd (enlarge)
That's all folks! I'll have an update in the next few days with both day and night photos of the work at the intersection of Old Windsor Rd and Norwest Bvd, which is being grade separated, and also the Westlink M7 connection at the end of Norwest Bvd.