Topic: Food and Drink 14 years, 12 months ago
Last weekend, Lucy and I paid a visit to Garfish at Kirribilli, a quiet, little restaurant on the eastern side of the Harbour Bridge near Bradfield Park (the park under the Harbour Bridge's northern approach) and Milsons Point station. We'd spotted the place on an earlier visit to the area and vowed to return.
Garfish's side street seemed unusually quiet to us, a contrast to the busier joints further down the street towards Bradfield Park. But being Saturday night we weren't surprised to have to wait for a table. (We ended up waiting about half an hour.) Luckily, Garfish didn't disappoint.
We shared an entrée of grilled Queensland scallops with potato pikelet, mushrooms and horseradish. The horseradish was a brilliant flavoring for the scallops, which went went very well with the delicious mushrooms and nice, creamy potato pikelet that they were served on.
We both went for one of the daily fish specials, with grilled salmon on a roasted eggplant puree for me and grilled garfish on lemon and thyme risotto for Lucy. They made a point of telling me my salmon would be cooked no more than medium-rare, but it still ended up slightly overcooked in my opinion. Still enjoyable, however.
On the other hand, Lucy's garfish really tasted as good as it looked, nice and sweet. To be honest I'm normally not a big fan of fish, and certainly not a fan of fish like garfish that are riddled with bones. This time, it made me wonder if sometimes I should make an exception!

Grilled garfish with lemon and thyme risotto
To finish off, we had a Belgian waffle with hokey pokey ice cream, caramel and almonds. Extremely sweet. Very yummy.
Garfish's location is actually very nice, with a wide footpath area allowing for permanent outdoor seating. The street is quiet enough that cars aren't a bother (in fact, our waitress kept walking down the street itself to reach the tables closest to the street), except at one point during the evening a garbage truck came past. Pity it was only afterwards that I realised it would've been the perfect opportunity to throw out some fish bones!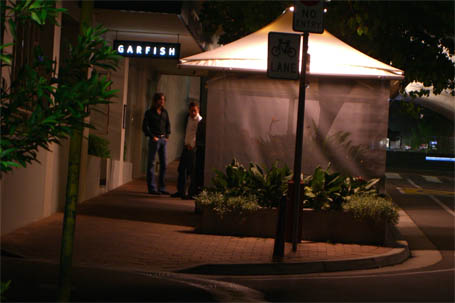 Garfish is located on the quiet Burton St…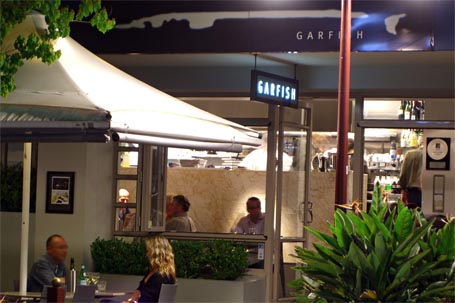 …so you can enjoy sitting outside
Garfish offers reasonable value, with regular mains ranging from $22 to $30 and daily fish specials at market prices (most under $30). For a decent feed though, don't forget entrees, and maybe deserts too. According to their website, there is also a Garfish restaurant at Crows Nest that shares the same menu.
A solid 4 out of 5 — if you like fish, give Garfish a go.
Garfish
2/21 Broughton St, Kirribilli, NSW, Australia (entrance on Burton St)
+61 2 9922-4322
www.garfish.com.au