Topic: Roads and Traffic 15 years ago
Alright, folks… I finally managed to snap some dodgy shots of the new overhead gantries at the M2 Motorway toll plaza!
These gantries will hold tag readers and cameras for the new dedicated e-toll only lanes that are being constructed. Last time I reported that the citybound gantries was likely erected sometime on Friday (21 Oct 2005) night. I didn't use the M2 again until yesterday (Tue 25 Oct 2005), when I saw the westbound gantries, though I imagine they were installed on one of the nights since Friday.
Unfortunately I had my camera, an otherwise great Casio Exilim EX-Z750, set to its anti-shake "BEST SHOT" mode, which makes for terrible low-resolution photos that look like they were taken with a mobile phone. Next time I'm passing through there, I'll have to try and take better photos once again.

Westbound view from the current toll booths (enlarge)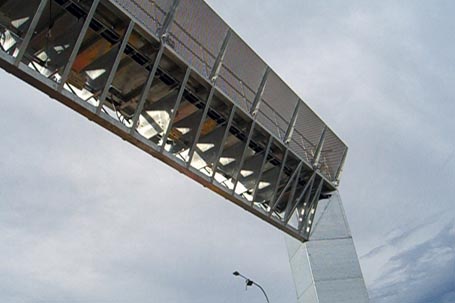 Close-up of one of the new e-toll gantries (enlarge)
[For other entries in this series, try browsing all posts tagged with both M2 Motorway and electronic tolling.]