OK, so you know how when you're a kid you always played with bananas as toy guns? Uh… no? Well I did anyway! I'm very proud to report that I just killed a mosquito with a banana!
A few minutes ago, I spotted a mosquito perched on a cupboard in the kitchen. Naturally (for me anyway), I thought I'd reach over to the fruit plate and pick up a big banana to whack the mosquito! After all, I thought a tissue or something isn't anywhere near as solid as a good banana (as long as the banana isn't over-ripe), and so the mosquito could have escaped!
So I took a swing, and… missed! You know, it's actually quite hard since bananas are kind of narrow. Anyhow I quickly moved to hit it again, and although it had just took flight to attempt an escape, one deftly-executed, wonderfully satisfying thwack! later, the mosquito was officially smooshed and the banana was not. Yay!
Don't worry, I rinsed the end of the banana under the tap and dried it (as you do) to make sure it was clean again.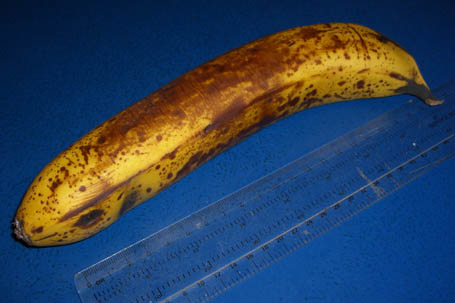 The almighty lethal banana, 22.5 cm long. Naughty mosquitoes, just you wait!
4 comments 15 years ago