Topic: On the Move 14 years, 10 months ago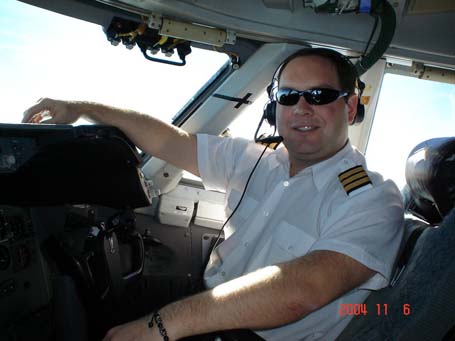 Marc Tacchi, when he's not a passenger (source: The Great Canadian Mileage Run 2005)
This man is a legend, not to mention getting famous.
Marc Tacchi, from British Columbia, Canada is planning to earn one million Aeroplan frequent flyer points flying Air Canada — enough to net him ten executive class return flights down here (to Australia). If you're thinking that's a lot of miles to fly, it gets better. He's planning on doing it in just 60 days.
Marc, already a frequent flyer, took advantage of an Air Canada promotion that offered a two-month pass for unlimited flights within North American for just under CAD $7 000. He spends the day flying back and forth between Vancouver and Victoria or Nanaimo, short flights that earn 500 points each. In the evening he travels across the continent, usually getting some sleep in business class (with upgrades, thanks to his Aeroplan status), before flying straight back to start the next day's trips!
Luckily, it's not all about braving cramped seats and airline food, as he still makes it home three nights a week. Oh, and he manages to work his normal job too — still in a plane! Marc is a pilot and continues to fly a B747 cargo plane to Asia once a week, taking 36 hours out of his other flying schedule!
According to Marc, he's going to end up about CAD $70 000 worth of points, enough to last him "at least the next 3 years". Follow his adventure on his blog, The Great Canadian Mileage Run 2005, or follow the discussion at FlyerTalk where another member, tracon, is apparently attempting a similar feat.
Just amazing! You're a genius, Marc — my hat's off to you. Good luck!