Topic: Public Transport 14 years, 10 months ago
Today is the last day State Transit's Sydney Buses will be providing bus services in Cherrybrook and Dural. From tomorrow onwards, Hillsbus will be taking over routes 620, 625, 626, 627, and 630 once again. (Sydney Buses will permanently take over routes 623, 624, 628 and 629 though.)
It's kind of the end of an era… for as long as I've lived in Cherrybrook, I've wished Sydney Buses would run the buses in my area — and for seven months this dream came true. But don't they say, all good things must come to an end? It really hit home on Monday night, when I was on the way home on a 620 bus from the City. While waiting to turn onto Pennant Hills Rd exiting the M2, our very friendly driver Paul decided to give a little speech thanking us passengers, saying he would miss us.
This will in fact be the third time we've changed bus companies in the past 12 months, with Harris Park Transport handing back their contract to the Ministry of Transport at the end of last year. Hillsbus took over for just over a month, until concerns arose over whether Hillsbus would have enough buses to run school services once the 2005 school year began. The NSW Government took control of the situation and the government-owned State Transit stepped in. They have been running bus services here for the past seven months.
Initially, there were a lot of issues with buses turning up late or not at all, but to an extent this was understandable as Sydney Buses' Ryde depot had to take on all the former Harris Park routes on extremely short notice. Over the past two months though, the bus service has improved significantly in reliability.
There are a few things we'll miss with Sydney Buses pulling out. We've now all come to appreciate the convenience and cheaper fares that come with using TravelTens (these prepaid 10-ride bus tickets have made coins redundant for most of us) and patronage has very noticeably risen on the 620 Dural/Cherrybrook to City service — it's a shame we'll have to go back to either cash fares or weekly tickets with Hillsbus. (Only Sydney Buses offers these, none of the private bus operators in Sydney do.) Not to mention, I'll have to go through all the trouble of getting a private bus operator concession card with Hillsbus again…
Overall, I think it's fair to say the staff at Ryde depot, along with drivers from other depots who also stepped in to help during this period, deserve a big thank you for a job well done! I'll certainly miss you guys!
I stepped out not long ago to take a few photos of the last City-bound 620 to run through Cherrybrook being operated by Sydney Buses. These snaps were taken at my bus stop, Appletree Shops.

Gassie M/O 1100 calls at Appletree Shops

Turns out Paul was the driver again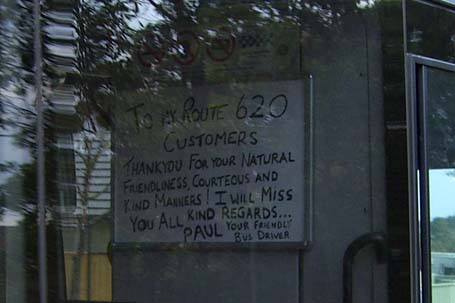 He even wrote a thank you message for his passengers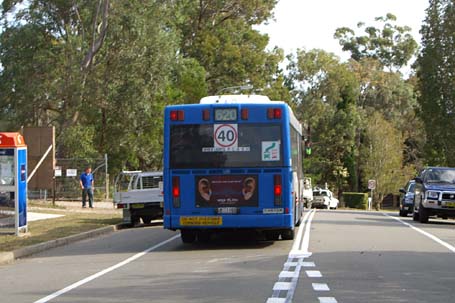 The 620 heads down Shepherds Dr for the very last time