Topic: Living it Up 14 years, 10 months ago
The iPod nano we ordered as a 21st birthday present for Johnny (aka Phoreal, one of my Digital Media friends) finally arrived this Tuesday, but today was the first time we've seen Johnny since. So this morning after our gen-ed at UNSW Kensington, Adam suggested we stick around for lunch (something we normally don't do) so that we could have a seemingly organised place to present the iPod to our fellow pimp.
Johnny was busy lamenting not going to UNSW instead of COFA (for reasons that will be obvious to some

) when I produced a certain box…

Ooh… and so it's unveiled

Johnny couldn't help stopping to describe the foiling, embossing and other printing techniques used on the box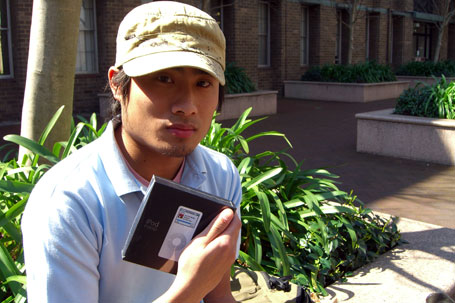 "Hotcakes!"
Johnny decided not to open the iPod as such an event as he wanted to save the "popping" for when he got home… opening the box is a spiritual undertaking that requires one to first centre himself, I suppose!

Anyhow, enjoy it bro! Happy 21st!
P.S. For those who wondered how the box the iPod was shipped in was constructed, wonder no more!